Product Description
M673LD3 Specifications:
60 Hz @ 1800 rpm
5 Kw
50 Hz @ 1500 rpm
4.5 Kw
Cylinders:
3 inline
Bore:
2.6 in (67 mm)
Stroke:
2.8 in (72 mm)
Displacement:
46.4 cid (0.76 ltr)
Fuel System:
Mechanical
Aspiration:
Natural
Length:
28.5 in (724 mm)
Length with Enclosure:
28.5 in (724 mm)
Width:
19.5 in (495 mm)
Width with Enclosure:
19.5 in (495 mm)
Height:
20.4 in (517 mm)
Height with Enclosure:
20.8 in (528 mm)
Weight:
377 lbs (171 kg)
Enclosure Weight:
44 lbs (20 kg)
NOTE:
Information, specifications, materials and dimensions subject to change without notice.
Note: US EPA Marine Certified Tier 3 are available globally
Engine Block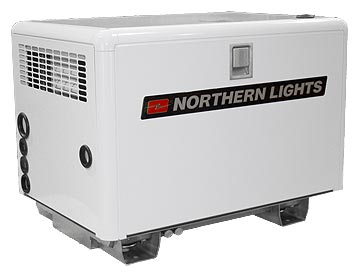 Four cycle, 3 cylinder, liquid cooled, naturally aspirated, overhead valve diesel.
Swirl combustion chambers improve fuel efficiency and reduce smoke.
Glow plugs for quick cold starting.
Cooling System
Freshwater cooling with siphon break.
Heat exchanger or keel cooled.
One-piece heat exchanger, expansion tank and liquid cooled exhaust manifold. Fewer troublesome hoses and gaskets. Cast iron to resist corrosion and electrolysis.
Heat exchanger cooling is standard. Cupro-nickel, tube-type heat exchanger has removable ends for easy cleaning. Rubber impeller seawater pump of bronze and stainless steel is gear driven; no belt.
Fuel System
Fuel system is self-venting.
Injection pump with 5% mechanical governor for close AC frequency control.
Pintle injectors with replaceable tips.
Mechanical lift pump with hand primer. No electric pump to fail.
Large spin-on fuel filter.
Steel fuel lines.
Stop solenoid acts directly on the fuel rack eliminating linkage problems.
Intake and Exhaust
Meets US EPA Tier III emission standards.
Washable air cleaner.
Cast aluminum intake manifold with Sound Maze air intake reduces intake noise.
Cast iron, wet exhaust elbow for safety.
Lubrication System
Full flow, spin-on oil filter with bypass.
3.1 qt (3 ltr) oil capacity for better lubrication and 200 hour oil change intervals.
Oil drain for quick, clean oil changes.
Closed crankcase vent system traps oil vapor and keeps engine room clean.
DC Electrical System
DC system uses reliable relays instead of an unrepairable printed circuit board.
12 volt starter motor and battery charging alternator with regulator and belt guard.
Standard panel: Remote mount S-1B has hour meter, stop-start switch with run light and preheat switch.
Expandable to six panels up to 110 feet from the set.
20 foot (6m) plug-in panel harness lets you mount your panel anywhere onboard. Better than inaccessible unit mount panels that are prone to vibration problems.
Low oil pressure, high coolant temp and high exhaust temp safety shutdowns standard.
AC Generator
Northern Lights, direct coupled, four pole, revolving field, four lead reconnectable generator with Class "H" insulation and prelubricated bearing. Conservative heat rise rating: 95°C/50°C ambient .
External automatic voltage regulator gives you ±5% voltage regulation. AVR powered by dedicated AC winding for improved motor starting. AVR circuit breaker.
30 amp mainline